Grasshopper is leaving the UK
Get a Freephone Number Today
Sound More Professional. Start Business Right.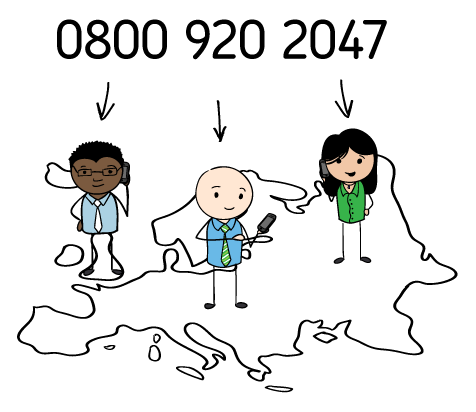 Sound More Professional With a Freephone Number.
All companies need ways for customers to contact them. When you first start a business, your mobile number may work well, but as you grow you should consider a freephone number.
These numbers allow customers to call you for free from landlines. They begin with 0800.
History of the Freephone Number
Freephone numbers were first introduced to the UK in 1985 with the 0800 prefix. In 1997, the 0808 prefix was introduced to make more numbers available. Freephone numbers were introduced as "free to call" numbers so that customers would no longer be troubled with a phone bill every time they call a business, making these prefixes a great choice for business. Prior to 1st July 2015, freephone numbers had call charges for mobile phone users. In 2015, telecoms regulator Ofcom introduced new regulations to eliminate these charges, making freephone numbers free to call for everyone.
Why bother with a freephone?
It gives you a professional image.
Freephone numbers give your small business or startup a professional look and feel, even if you're working from a home office or shared space.
Free to customers.
Unlike non-geographic numbers (NGNs), 0800 numbers are free, so your customers won't have to pay to call you. No customer wants a large phone bill after calling your company and an 0800 number can prevent this.
Promote a national presence.
These are non-geographic numbers (NGNs), which means they're not associated with a certain region in the UK. Your small business immediately becomes national with one.
They give you privacy.
Freephone numbers are much better than home or mobile lines because they're only for business—no more mixing calls from your family with ones from your customers. A separate line just for work gives you the professionalism you need.
Track marketing efforts.
You can use your numbers to track marketing efforts. If you're running multiple campaigns at once, you can use different numbers to figure out how people are contacting you. You can put one number on the home page of your website and another on your pay-per-click ads. This strategy will help you figure out who is converting from where.
Engage and convert your customers.
Customers like to see Freephone numbers from the businesses they work with, as it proves that the businesses are serious, even if they're small. Many of our customers have reported increases in conversions after adding a number to their website or email signature.
A dedicated support or sales line.
A Freephone number can serve as your primary phone number, but can also be used as a support or sales line.
How do you get a freephone number for your business?
You can get one through any freephone service provider. Many providers are online—you can simply sign up and get going. Many services offer additional features such as auto-receptionists, call forwarding and voicemail services.
How much do they cost?
Getting a freephone number is a lot more reasonably priced than you might think. The cost of these numbers varies depending on your provider, the plan you choose and the amount of minutes you use per month. At Grasshopper, you can get a freephone number for as low as £10.
What other features do they come with?
A freephone number is great, but other features can make it better. Many providers will have additional features such as
Call forwarding – forward calls to a landline or mobile.
multiple extensions – set up extensions for each employee.
Voicemail – receive recorded messages.
Voicemail transcription – read recorded messages via email.
Faxing – receive faxes.
Customisable greetings – customise main greetings and messages.
Many more.
What's the difference between freephone numbers and 0800 numbers?
Nothing. They are the same thing.
What phone numbers are available from Grasshopper?
Grasshopper offers local 02 & 01 numbers, freephone numbers (0800 & 0808) as well as national 03 numbers.
Helpful tips:
The placement of your number is important. It should go in a prominent place on your website, but can also be put on business cards, billboards, branded cars and review sites.
Some businesses give out freephone numbers so customers can call and get all the information they need through a recorded message. (An estate agent might record a message about a certain flat, for example.)
Many Grasshopper customers opt for regional numbers and NGNs, so they can cater to customers on a local and national level at the same time.
Over 250,000 Happy Customers Served
Here's what a few of them have to say about Grasshopper
I am now a huge fan of Grasshopper… truly saved the day (and my sanity). Carolyn Appleton Carolyn M. Appleton, Inc.
Having a phone number on our site increased conversion of site visitors to sign ups and paid users! Allan Branch LessAccounting